Dimagi Receives Grand Challenges Grant for Catalyzing Equitable Artificial Intelligence (AI) Use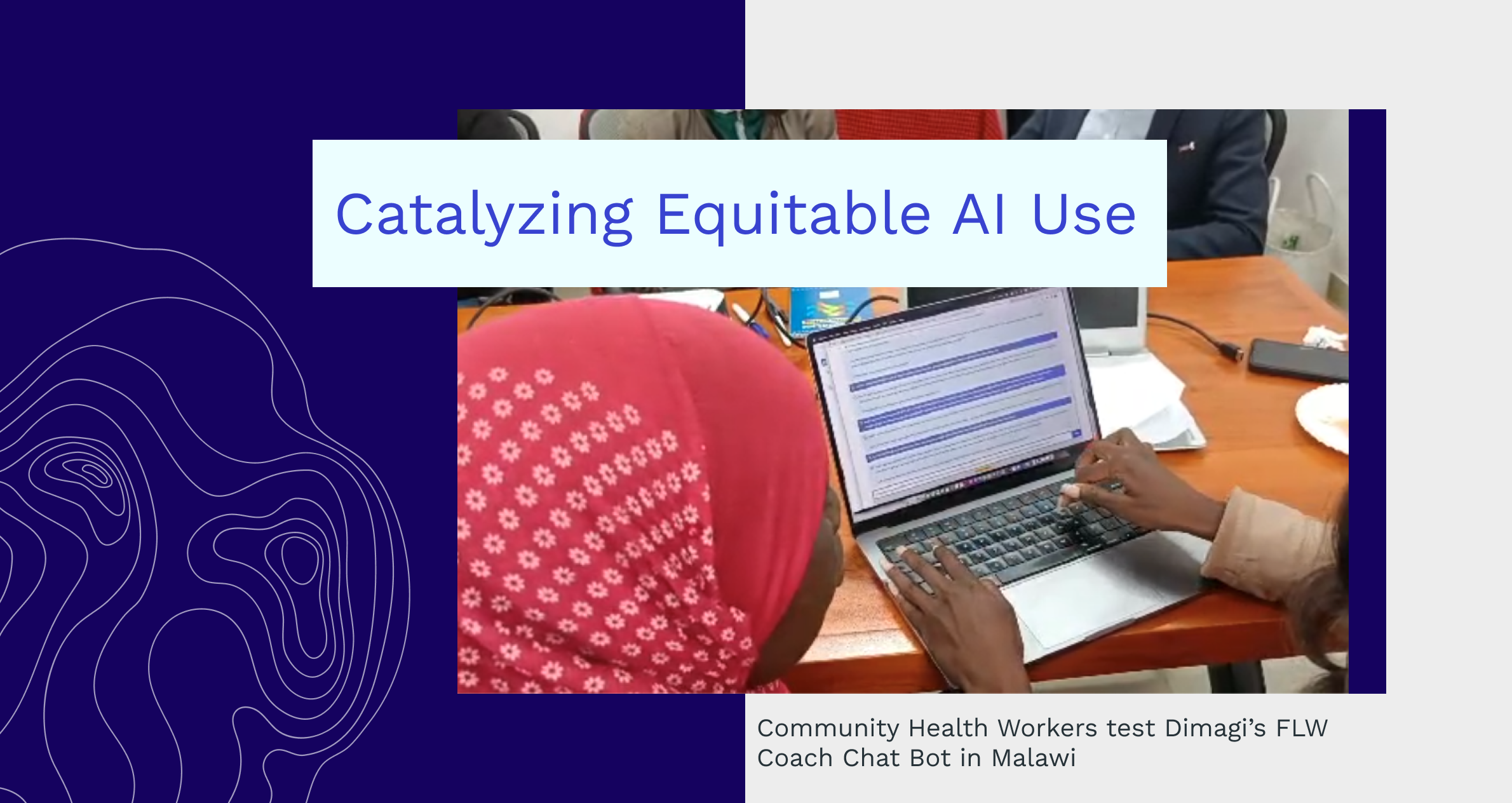 August 11, 2023; 4 min read
Supporting and Supervising Frontline Workers with a Large Language Model (LLM) Powered Coach
Cape Town, South Africa – Dimagi is thrilled to announce today that it is a winner of a Grand Challenges grant – an initiative fostering innovation to solve pressing global health and development problems and funded by the Bill & Melinda Gates Foundation. With this funding, the Dimagi team, led by Dr. Neal Lesh, Dimagi's Chief Strategy Officer, will pursue an innovative global health and development research project focused on Catalyzing Equitable Artificial Intelligence (AI) Use, titled Closing the Supervision Gap: An LLM-Powered Coach for Frontline Workers.
When harnessed equitably and responsibly, AI has incredible potential to help solve some of the world's toughest challenges and reduce global inequalities. Supporting AI research in low- and middle-income countries (LMICs) will help ensure that AI technology is tailored to local health, education, agricultural and other contexts and designed with the needs of the world's most vulnerable at the center.
Closing the Supervision Gap: An LLM-Powered Coach for Frontline Workers
Billions of people depend on Frontline Workers (FLWs) to provide the care they need for their health and wellbeing. For 20 years, Dimagi has been a leader in the development and use of open source, inclusive, robust and scalable digital solutions to help amplify the impact of this hard-working and often over-burdened workforce. Our flagship platform, CommCare, is the most widely used platform for supporting FLWs in Lower and Middle Income Countries (LMICs), with an extensive evidence base showing that equipping FLWs with CommCare improves the health outcomes of their clients.
One persistent challenge for FLW programs has been the relative lack of supportive supervision. While many FLW programs have supervision structures in place, these are often understaffed and provide minimal touchpoints for FLWs. The emergence of Large Language Models (LLMs) like GPT-4 offer the potential to address this critical gap, and exceed prior goals of supervision by providing FLWs with continuous coaching and growth opportunities.
Dimagi has been experimenting with leveraging LLMs for LMIC use cases since March 2023. (Hear a podcast conversation on our early thinking.) With the Grand Challenges grant, Dimagi will take these efforts further to develop an LLM-powered coach for FLWs that provides training, performance feedback, and encouragement to improve the confidence, quality of care, job satisfaction, and productivity of FLWs. This solution will fill critical gaps that undermine the effectiveness of frontline programs, as well as provide growth opportunities and professional support that has too long been neglected. We will quickly and formally evaluate the program in Malawi, and leverage Dimagi's experience, network and infrastructure to scale an open-source, high-impact, robust, and financially-sustainable LLM-coach to FLWs around the globe.
The development of this LLM-powered coach will be supported by Dimagi's Open Chat Studio, a platform Dimagi is developing to allow users to rapidly develop and evaluate LLM bots (initially using GPT-3.5 and 4) for targeted purposes with specified source material and a variety of mechanisms to instill guardrails for safety and accuracy.
Dimagi's project will be spearheaded by Dr. Neal Lesh with oversight from Dimagi's Director of Research and Data, Dr. Brian Derenzi, and executed by members of our Cape Town, South Africa staff. It is one of nearly 50 Grand Challenges Catalyzing Equitable Artificial Intelligence (AI) Use grants announced by the Gates Foundation to support LMICs in harnessing AI's power for good and to solve the urgent need for LMIC participation in the co-creation process of this technology as it rapidly evolves. The project's findings will contribute to building an evidence base for testing AI large language models (LLMs) that can fill wide gaps in access and equitable use of these tools. Each of these grants represents an opportunity to solve or mitigate a real challenge experienced by communities, researchers and/or governments in low- and middle-income countries.
To receive funding, Dimagi and other Grand Challenges winners submitted their concepts which outlined their bold idea in response to the Catalyzing Equitable Artificial Intelligence (AI) Use request for proposals. More than 1,300 proposals were submitted from around the world.
About Grand Challenges
Grand Challenges stem from the idea from over a century ago that crowdsourcing a defined set of unsolved problems can spark innovation and accelerate progress. The Bill & Melinda Gates Foundation and its Grand Challenges funding partners use Challenges – launched in 2003 as open requests for grant proposals – to focus attention and effort on solving pressing global health and development problems for those most in need. Together they have awarded over 3600 grants engaging a diverse pool of problem solvers in over 100 countries and fostering a global innovation ecosystem where it will have the most impact. The foundation and its Grand Challenges partners will continue to launch RFPs to support innovators from around the world in tackling the hardest, most urgent, Grand Challenges. To learn more, visit grandchallenges.org.
About Dimagi
Dimagi is a global social enterprise that powers impactful frontline work through scalable digital solutions and services. Since 2002, Dimagi has been guided by a vision of a world where everyone has access to the services they need to thrive. Dimagi is most well-known as the makers of CommCare, the most widely-deployed digital platform for enabling Frontline Workers. Governments and organizations across all sectors use customized mobile, web and SMS applications built on CommCare to deliver services at the frontline. Dimagi is a certified Benefit Corporation with teams in the United States, India, South Africa, Senegal and around the world.
For press inquiries, contact: communications@dimagi.com
Share
Tags
Similar Articles